10 pengalaman pahit yang menjadi kunci kekuatan saya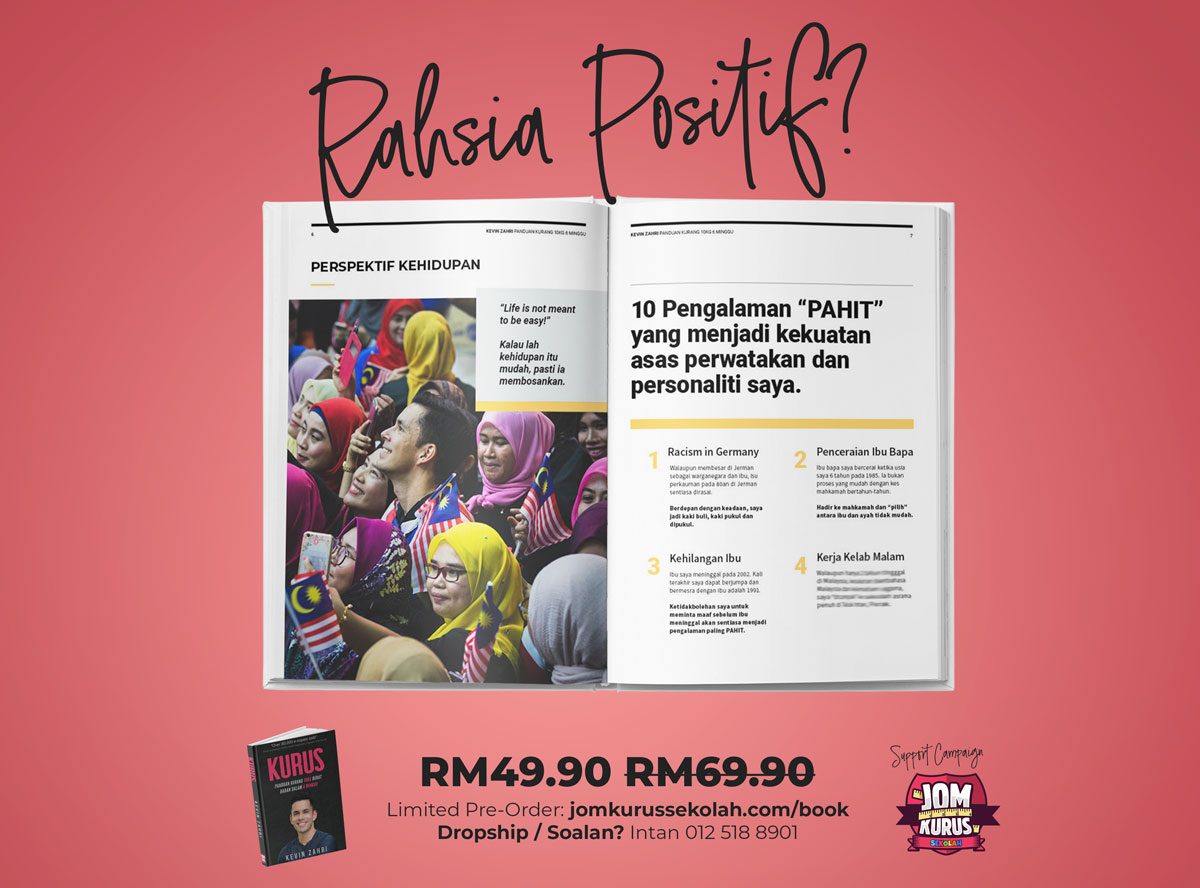 Salam dan hi kepada anda,
Ramai yang mengenali saya sering bertanya "Kenapa Kevin selalu positif dan sentiasa senyum?". Hmm pada usia yang muda saya kurang faham soalan tersebut kerana sememangnya itu perwatakan saya dari kecil yang diasah melalui pengalaman kehidupan yang penuh dengan ups and downs. 
Tapi sepanjang saya menjalankan program Jom Kurus dan mengenali ribuan peserta dengan lebih erat, saya mula sedar bahasa tekanan mental (biasa pada diri sendiri) adalah antara penghalang paling besar dalam perjuangan kesihatan, kerjaya dan perhaps kehidupan.
My life was never easy terutamanya pada usia remaja dan early adulthood tapi kurnia disebalik cabaran di usia yang muda, ia menjadi pokok kekuatan dan dasar pendirian saya sebagai seorang dewasa, bapa dan pejuang kehidupan yang positif.
Jadi dalam buku baru saya, "KURUS – Panduan Kurangkan 10kg Dalam 6 Minggu", saya khaskan satu bab khusus buat aspek mental yang juga akan kongsi 10 pengalaman "pahit" yang saya lalui dan pengajaran yang ia beri. Antaranya adalah:
1) Menjadi kaki buli.
2) Racism di Jerman.
3) Penceraian ibu-bapa pada usia muda.
4) "Dilarikan" ke Malaysia pada 1991.
5) Sekolah SMK tanpa kebolehan berbahasa Malaysia.
6) Asrama penuh tanpa ilmu agama.
7) Perpisahan & Kehilangan ibu.
8) Kerja kelab malam.
9) Interrogation bersama FBI di Boston 9/11
10) Kehilangan keluarga terdekat melalui depression.
Cant wait to share all these with you dalam my upcoming book yang anda kini boleh pre-order di jomkurussekolah.com/book atau hubungi Intan 012 518 8901? di untuk info pembelian, dropshiping etc.
Jangan stres-stres,
Kevin Zahri 
---
Hi, my name is Kevin Zahri or affectionately known as Cikgu Fitness. I am an award winning health and fitness influencer, wellness activist based Malaysia and founder of this regions largest weight loss movement called Jom Kurus ... oh and a member of MENSA.
All author posts