After I launched my first eBook, 24 Questions, last year, we received overwhelming requests for a detailed weight loss eBook. After about six month of writing and research, I am proud to bring you my second eBook called "How To Lose 5kgs in 5 Weeks".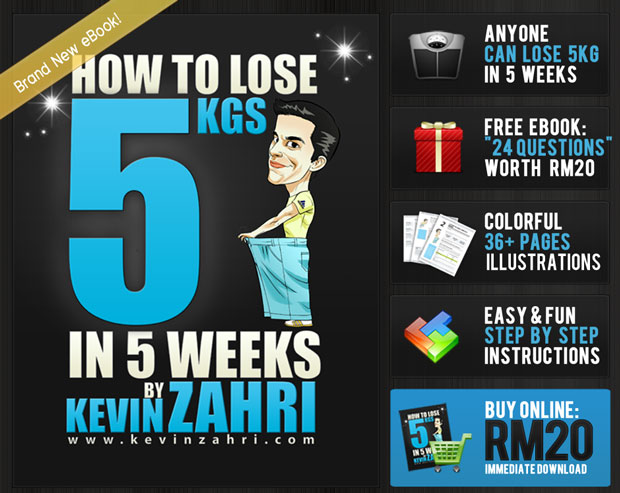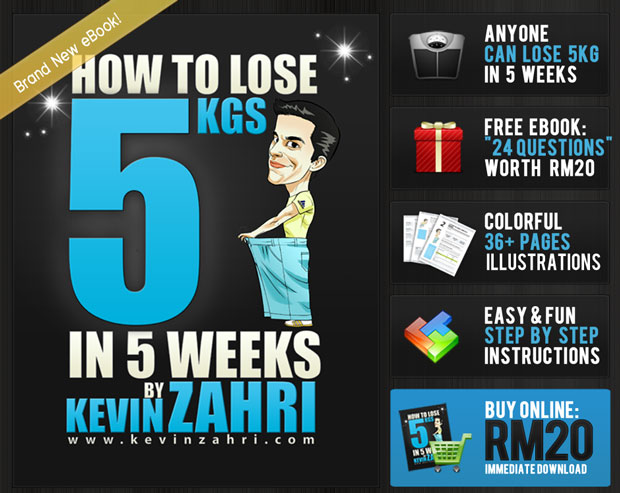 Detailed Weight Loss Guide
This eBook is a detailed 36 page step-by-step guide to help you lose 5kgs in 5 weeks. Whether you are a bride-to-be or have been stuggling with your weight in the past, this eBook will help you take control of your weight fast!
Is weight loss easy? Some most its difficult but for those who understand it, its easy! This is exactly where this eBook comes in …. it provides you with proper know-how on nutrition, diet-planning, exercise and supplements to help you lose not just 5kgs in 5 weeks, but to help you lose weight permanently.
The eBook, in PDF format, is ideal for archiving, for arm chair or mobile reading and, of course, for printing. In addition to the 36 pages, the eBook contains various illustrations and graphics to make it easy on the eyes.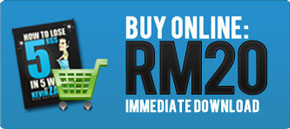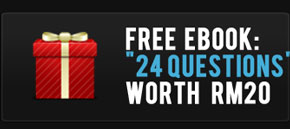 Buy 1 and Get 3 Free eBook for RM20
When you buy this eBook for only RM20, you will also get the following eBook for FREE!:
24 Questions – The most commonly asked health and fitness questions eBook
25 Quick Calorie Saving Tips eBook
25 Quick Ways to Burn More Calories eBook
You will also get an excel spreadsheet to help you build your calorie and diet needs as explained in the eBook.
Table of Content
Following is a screen-shot of the table of content: