Fitness 24/7 Book Package Deal for RM75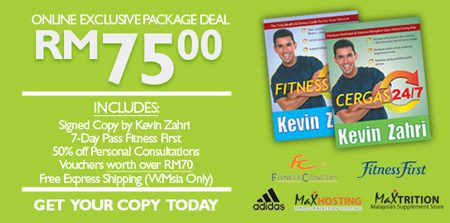 Dear all,
Together with our sponsors and partners, we are happy to offer you and exclusive KevinZahri.com deal on all our book purchases.
Fitness 24/7 & Cergas 24/7 RM75 Special Online Only Package
We are retailing Kevin's books with an exclusive package offer for RM75. All book purchases on KevinZahri.com also get:
Autographed Copy by Kevin Zahri
RM10 Voucher from Maxtrition
5% Discount Voucher from Fitness Concept
Discount Voucher from Adidas (Details Soon)
7-Day Trial Membership from Fitness First
RM50 Off for our upcoming Fitness 24/7 Seminars
RM100 Off Personal Consultations with Kevin Zahri
Free Domain worth RM44.95 from Maxhosting
FREE Courier Shipping*
*West Malaysia Only
---
I am a passionate educator and advocator in helping Malaysians live better, healthier, stronger, and happier lives. Ingat, ia bukan soal kurus.
Author posts