Spend At Least RM200 And Get Free eBook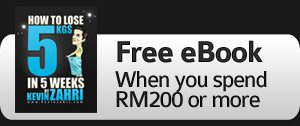 Spend at least RM200 at our online shop and get our "How to lose 5kg in 5 Weeks" eBook for free – worth RM20.
Supplements @ KevinZahri.com
Starting June 2010, our online shop will be adding various supplements. Expect protein powders, creatine, weight gainers, fat burners and much more.
Visit our online store at kevinzahri.com/shop.
Free Shipping
All prices include Free shipping for orders in West Malaysia. Standard shipping rates to East Malaysia apply.
---
I am a passionate educator and advocator in helping Malaysians live better, healthier, stronger, and happier lives. Ingat, ia bukan soal kurus.
Author posts