5 Langkah Kurangkan Tekanan Darah Tinggi
Tekanan darah tinggi is a serious condition yang boleh menyebabkan pelbagai penyakit seperti coronary heart disease, heart failure, stroke, kidney failure, and other health problems. Saya rasa ramai di kalangan anda mempunyai ahli keluarga yang mengalami penyakit ini. So this post is for you.
1.

Senam 30 minit sehari! Senaman cardio seperti jogging, badminton, berbasikal dll kuatkan otot jantung. Ini kurangkan beban kepada arteri anda.

2.

Kurangkan garam! Garam nie macam pasir, ia takung air. Dengan itu, isipadu keseluruhan darah akan meningkat dan dengan itu, tekanan darah mengingkat. So take it easy on salt.

Panduan Pengambilan Garam: Badan anda hanya perlukan lebih kurang 500mg tetapi kebanyakkan pengguna biasa ambil 10x amount tersebut! Bagi merekan yang menalami penyakit tekanan darha tinggi, jangan melebihi 1500mg sehari.

3.

Tingkatkan potassium dan magnesium seperti pisang dan buah-buahan. Ia membantu mengurangkan tekanan darah systolik dan diastolik sebanyak 2-5 point.

4.

Relax. Kurangkan stress dan tenangkan diri paling kurang 30minit setiap hari untuk kurangkan tekanan darah.

5.

Jaga berat badan Obesity is directly relation dengan peningkatkan tekanan darah seseorang. Amalkan pemakanan dan senaman secara berterusan untuk menjaga berat badan …make sure your weight is kept in check!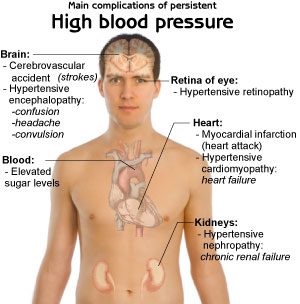 Quick facts about high blood pressure
Blood pressure is created by the force of blood pushing against the walls of the arteries as it circulates and the force of the arteries as they resist the flow of blood. When this force is too great, it's called high blood pressure or hypertension:
Normal blood pressure is less than 120/80 mm Hg. Prehypertension (could be the beginning of high blood
pressure): if your numbers fall between the normal and high range, you should talk to your doctor
about possible lifestyle changes you may need.

High blood pressure is 140/90 mm Hg or above.

About 1 in 3 US adults have high blood pressure
Most people with high blood pressure do not have any symptoms
High blood pressure makes the heart pump harder to pump blood throughout the body and may cause damage to blood vessels
If left untreated, high blood pressure can lead to serious health problems
High blood pressure cannot be cured, but it can be managed
---
I am a passionate educator and advocator in helping Malaysians live better, healthier, stronger, and happier lives. Ingat, ia bukan soal kurus.
Author posts