4 April: Harga baru eBook Panduan Kurangkan 5kg Dalam 5 Minggu RM30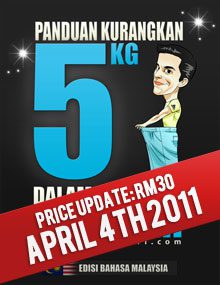 Saya ingin mengumumkan bahawa mulai 4 April 2011, harga baru untuk eBook Panduan Kurangkan 5kg Dalam 5 Minggu adalah RM30.
Kenapa naik harga?
Harga RM20 adalah harga pengenalan sejak bulan Jun 2010. Sejak itu kami sediakan pelbagai bonus seperti panduan eMail 1:1 untuk membimbing anda dalam usaha menurunkan berat badan, eBook percuma, video dan lain-lain lagi.
Saya naikkan harga supaya terus dapat membaiki perkhitmatan eBook dengan:
Selain tiga eBook bonus percuma, anda juga akan memperolehi eBook panduan diet secara percuma.
Saya akan terus memasukan video-video panduan kepada eBook
Excel spreadsheet akan digantikan dengan sistem diet online … probably melalui cekodok.com nanti. Semua pembeli eBook akan dapat access percuma nanti.
Tambah lagi RM10 untuk dapatkan kesemua eBook Kevin Zahri
Harga untuk pakej kesemua eBook saya (termasuk Panduan Kurangkan 5kg Dalam 5 Minggu) tetap sama – RM40. Dalam masa 1-2 bulan ini, saya akan terus publish beberapa eBook baru seperti "10 Kes Kajian Kejayaan Weight Loss", "Panduan Senaman Weight Training" dan lain-lain lagi.
---
I am a passionate educator and advocator in helping Malaysians live better, healthier, stronger, and happier lives. Ingat, ia bukan soal kurus.
Author posts