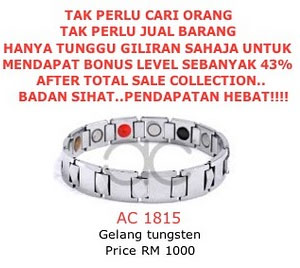 Hmmm dua minggu lalu I reviewed Herbalife – I shared kebaikkan dan keburukan. So jadi hari ini saya ingin review produk sensasi dan kontroversi – gelang tangan magnet Ac Mizal.
Since laman web AC Mizal Konsortium is ironically under construction, some of the images yang saya guna adalah daripada blog Aididleaks
Kebaikan gelang tangan mangetic
Pada pendapat saya, gelang tangan magnetic sebagai pengubat atau penawar penyakit memang merepek. Kalaulah ada kebaikkan sekalipun, I would bet it is more psychological than anything else. Seolah-olah macam baju yang cantik. Apabila anda dress up dengan baju terbaik, anda rasa hebat dan yakin – kurang stress. Gelang tangan may have that same psychological effect on your mind. Macam tipu diri sendiri. So a healthy mind leads to a healthy body? Hmm terpulang lah. But definitely, there is no short cut to a better health.
Tapi apa2 pun berikut adalah claims kebaikkan gelang tangan AC Mizal daripada website mereka sendiri:

…well kalau anda kaji internet tentang apa teori sekalipun, tentu ada saintis yang kata A dan ada yang kata B… termasuk gelang tangan magnetic. Lagi-lagi apabila saintis tersebut diambil kerja oleh pihak berkenaan. Kalau anda tonton cerita Thank You for Smoking, than you know what I mean.
5 Perkara yang anda perlu tahu tentang gelang tangan.
Ok yang ini bukan sahaja limited untuk gelang tangan AC Mizal tetapi gelang tangan magnet secara keseluruhan. Tapi gunakan produk AC Mizal sebagai contoh, berikut konon-kononnya adalah claims kebaikkan gelang tangan
1.

Ia gelang tangan … magnet! All the so called scientific claims adalah kajian am semata-mata dan tidak diiktiraf oleh mana-mana pihak. If katakan you feel better selepas memakai gelang tangan tersebut, I would bet that itu adalah kesan pychological just like a placebo.

2.

Ubati tekanan darah tinggi? Memang tak lah. Kalau anda tidak pandai mengawal pemakanan, gaya hidup dan sistem kardiovaskular anda, jangan harap mana-mana gelang tangan boleh membantu. Tiada jalan ringkas untuk mengawal kesihatan diri.

3.

Ubati arthritis pada hips dan lulut? Hmmm well yes and no. Ada kajian yang mengatakan bahawa pemakai gelang magnetik dapat membantu kurangkan sakit pada sendi2. Tapi ada pendapat lain bahawa ia bukan kerana memakai bracelet tapi kerana placebo effect. Sanggupkah anda belanja RM1,000 to find out?

4.

False Claims. Kalau anda google phrase "magnetic bracelet", anda akan bump across pelbagai laman web yang mengatakan bahawa gelang tangan magnetic ini adalah satu scam – penipuan. AC Mizal sendiri pun tergolong dalam kontrosersi yang sama.

5.

RM1000 untuk gelang tangan magnet!? Hmmm saya kesian dengan pengguna yang membeli gelang tangan tersebut cause memang melampau. Most magnetic bracelets harganya dalam RM200-400, kenapa yang ini pula sampai RM1,000? Well 1. kerana ia MLM di mana profit sharing melibatkan pelbagai pihak, jadi perlu increase margins and 2. kerana ia dipasarkan oleh orang terkenal. Jadi ada premium.
Rumusan: Tiada kajian kerajaan di Malaysia mahupun di USA menyahkan keberkesanan gelang tangan magnet. Malah di US, pemasaran therapy gelang magnet sangat terkawal. Syarikat di US tidak dibenarkan untuk membuat mana2 medical claims melainkan ia diiktirak dan disahkan oleh kajian saintifik yang sah. Tapi kalah anda nak beli jugak untuk RM1,000 itu hak anda. In Malaysia malangnya kawalan advertising dan marketing is very longgar.