Germany 3:2 Turkey! Jetzt kommt das Finale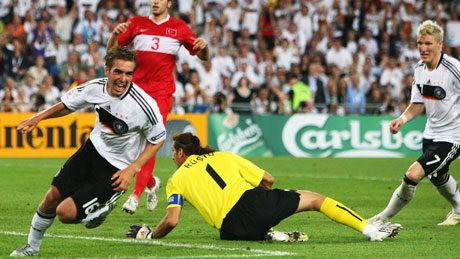 Its 513am……just "saw" my Germany narrowly beating a good Turkish team thanks to a late goal by Phillip Lahm (who's air muka actually is very much like my late brother Karim). So obviously I am more than happy that Germany has made to another cup final and am really hoping that Ballack and co can pull off a win against Spain or Russia. Common la after sooo many runner-up places for Michael Ballack, he does deserve the trophy – walaupun Ballack had an off game.
More worried about Euro 2008 Live Feed Interruption
So yeah Germany didn't play that well but as long as the score remained 1:1 there was not much to worry. Or camane? Instead of worrying that the Turks may score, I started to worry more about freakin Astro's live feed. 3-4 times I rasa the feed got interrupted…feed up gile I tell you. Dah la during the most dramatic phases. Tambah lagi, I had to listen to Shebby rambling on about how he is always right about everything. Hahaha he always starts a sentence with …"Yes Paul….as I was saying earlier….". If you pay attention to Shebby's analysis….he will always be right – one way or another.
Ballack's gotter step up in the final
So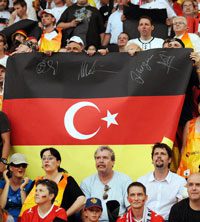 I'm pyched for Germany…but gonna go get some sleep now. Lets hope that Ballack, Mertesacker and Metzelder can step up in the final as they didn't have a great game. Worse still was Rolfes but he was replaced by Frings which led to a better second half performance.
No to Racism
Lastly, let's hope that there are no violent clashes between German and Turkish fans but someone I doubt that is possible. United against racism!
Just proofread my post….loads of typos..haha pls forgive – it was 5am in the morning (aka zombie mode)
Deutschland, Deutschland. Jetzt gehen wir ins Finale!
---
I am a passionate educator and advocator in helping Malaysians live better, healthier, stronger, and happier lives. Ingat, ia bukan soal kurus.
Author posts