Germany 2010 World Cup: Team and Player Review
The World Cup final is tonight but with Germany's last match played … I consider it over. I am so so happy with our 3rd placing. Had someone told me before the tournament start that we would in the semi-finals, I would've been happy … but having seen how well we played leading up the Spain match, I was rather disappointed how badly we were outplayed by Spain. Oh well!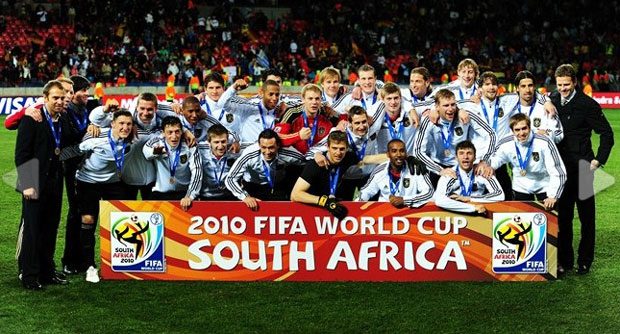 So as an avid German fan, I would like to give my personal analyze and grades or "Einzelkritik" for the Mannschaft.
Manuel Neuer (7/10): Great future talent. I've been impressed with Neuer since his Schalke played in the UEFA cup a couple years back. Steady hands and a roaring personality make in a great keeper for many more years. Being so young obviously contributes to some erratic decisions.
Holger Badstuber (5.5/10): Had a great season with Bayern. Was happy to see him make the starting-11 against Aussie but got a lot of heat for allowing the fateful cross against Serbio .. which led to the goal. Very young at 20. Great future for Germany and Bayern.
Jerome Boateng (6/10): Watched him in a few youth match for Germany. Great physical presence and had a decent World Cup overall. I think he struggled mightily against Sergio Ramos of Spain. He will be player I will look forward to watch at Mancester City is coming season. With Ballack gone, I may just become a ManCity fan! Hehe.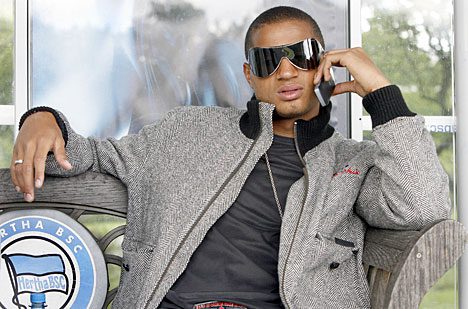 His brother, Kevin-Prince, on the other hand is an arrogant prick. I think he is too cocky and not that good a player to begin with. I am glad he is not playing for Germany
Arne Friedrich (7.5/10): Super steady. Great tackles and always proves a handful in attack during corners or set-pieces. Together with Mertesacker absolutely priceless for Germany in center of defense. At 31 probably his last World Cup.
Per Mertesacker (7/10): At 26 has a another World Cup left in him. Overall played very well. No outstanding errors and together with Lahm played the ball very well out of defense to kick-off our offense. With his height, he should do a little better in attack during corners or set pieces.
Philipp Lahm (8/10): Superb World Cup. Not your typical captain but he lets his playing on the field do the talking. Whenever he gets on the ball, you can be 99% assured that his pass, shot or dribble is fruitful. Despite all that success, he will probably lose the armband once Herr Ballack returns to the national squad. Now 27 already, he will still be a force to be reckoned with for the next 4 yrs. I would like to see him make a move to the EPL over the next 1-2 years.
Marcell Jansen (6.5): Never been a fan of Jansen, especially during his days at Bayern. A little to erratic for my liking and tends to lack consistency and a steady head in crucial moments. That said, I think he played well when coming on for Podolski. His goal against Uruguay was probably 50% luck but crucial!
Sami Khedira (7.5): Another young one at 23. This tournament has been a breakthrough for Sami. He reminds me a lil of Dietmar Hamann, keeps the ball very well, sticks to his business and when moving forward can cause problems for defences. Great future for him and Germany.
Toni Kroos (6/10): I am a huge of fan of Toni. Have been following this prodigy since he played in the U17 team for Germany. With his talent, people (like me) perhaps expect too much too soon. He could've scored against Spain with his volley but oh well … at only 20 years, he is definitely a player to watch. This coming season he will be back at Bayern!
Mesut Özil (8/10): Another one of our breakthrough performers. Everyone who watches Werder Bremen knows of his gifted left foot but sometimes I feel that he himself lacks a little bit of confidence … but with the World Cup over, Mesut should be full of confidence and look forward to a bright future. My only other comment: instead of always dribbling the ball in front of goal … just shoot!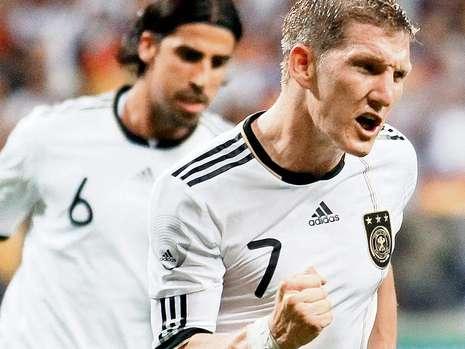 Bastian Schweinsteiger (7/10): Schweini Oh Schweini … he is player who has matured tremendously over the last 1-2 years. Gone are the emotional outbursts and now we have a steady more calmer Bastian. I like it. Played the match of his life against Argentina. A couple of crucial loss of possessions against Spain and Uruguay are probably as a result of over-confidence?! Like Lahm, it would be great to see him play in England or Spain. He definitely has the goods and is only 26!
Piotr Trochowski (5/10): Played great football 2-3 years ago. Has not been playing well this season and for me, he has been erratic for Germany at the World Cup. Did not use his chance as a replacement for Mueller against Spain. At this form, he will continue to struggle to make the starting eleven and rightly so.
Cacau (5/10): Strong physically but does not hold the ball as well as Klose which often led to attacks falling down quickly. I don't see him as a regular first choice for Germany but than again, we don't have that many options.
Miroslav Klose (7.5/10): After his lousy season with Bayern, I didn't expect him to do well at all. No one did but like Podolski he impressed. Too bad he couldn't add to his goal tally and equal Ronaldo. I think Klose may play at Euro 2012 but this should be his last World Cup. Good job!
Thomas Müller (9/10): Absolute star of the team. After only his first season in the Bundesliga, 20 year old Thomas is a world star! I think the experience in the Champions League proved crucial. I remember watching him against ManU and he was lost! Well lost no more. This World Cup experience and five goals should mean great things for him and Germany. Together with Kroos, Ozil etc they are our future. Did you know that Mueller is already married at 20!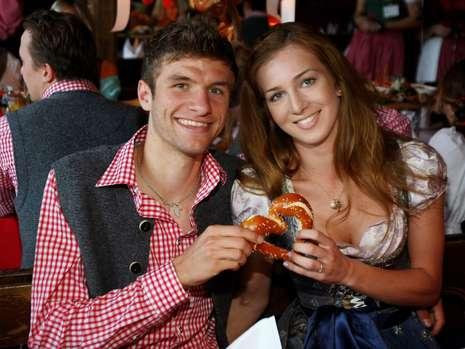 Lukas Podolski (7/10): Also had a great World Cup. I never liked his attitude at Bayern. A lot of complaining. At times very wasteful, especially against Serbia. That was annoying to watch. Still young at 25 but should play for a better club than Cologne. He needs to be pushed or he needs to push himself. Will probably play in 2014.
Mario Gomez (3/10): Just like Euro 2008, absolutely useless! Can't hold the ball. Can't pass when it matters and doesn't hit the target. I think Mario lacks confidence when he plays for the national side. Very disappointed.
The Team (7.5/10): Great performance overall. Fun to watch moving forward with fast passing one-two football. In Mueller, Ozil, Kheidera, Neuer, Badstuber and Kroos, Germany has a great future. If there are areas to work on, I would say that Germany needs a world class striker like Klinnsmann, the left back situation also needs to work. In terms of depth, yeah it wouldn't hurt to have some useless substitutes. Overall, I am super excited and hopeful for the future of German football. Probably without Michael Ballack.