Virtual Run 21KM Bukan Soal Kurus
We are back! Edisi kedua virtual run 21km Bukan Soal Kurus. Hanya 500 spots available. Kali ini bersama our sponsor OnGoin we bring you Virtual Run Bukan Soal Kurus 2 #JustLariLah.
Dari setiap penyertaan, RM10 akan disumbangkan kepada NGO Pertubuhan Pencegahan Obesiti Kanak-Kanak & Dewasa. Sokongan anda sangat dialu-alukan.
Virtual Run adalah perlumbaan yang anda boleh dilaksanakan mengikut kadar dan masa anda sendiri bermula dari 8hb sehingga 28hb Feb 2021.
Virtual Run berfungsi sama seperti jenis larian yang lain tetapi perbezaannya ialah perlumbaan ini boleh dijalankan di mana-mana lokasi, baik di luar ataupun di dalam rumah (treadmill).
Perkara yang diperlukan untuk Virtual Run ini ialah mendaftar sebagai peserta dan selepas anda berjaya melengkapkan larian / langkah, anda perlu menghantar bukti larian anda kepada kita. Fee untuk larian maya ini adalah RM35.00 per peserta sahaja.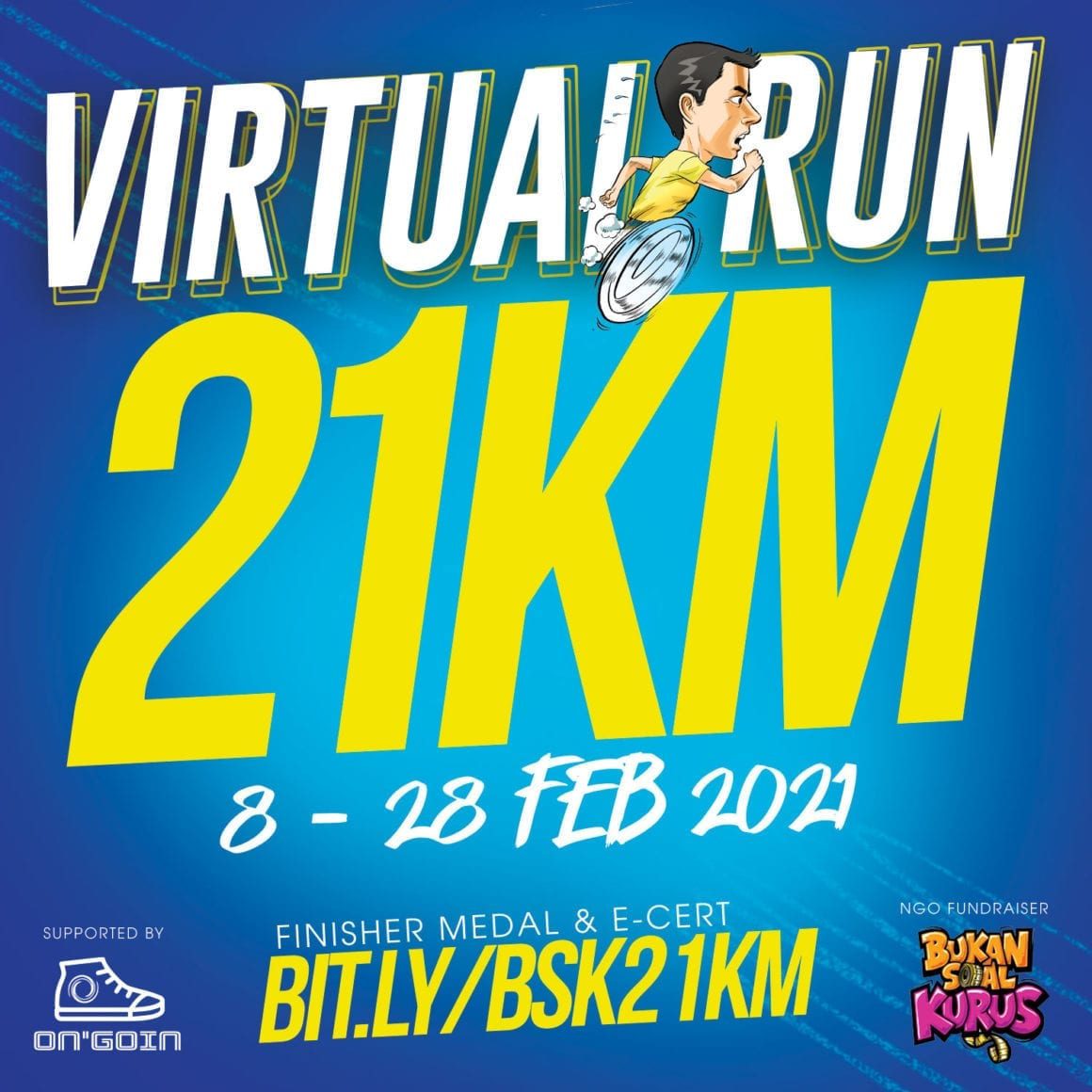 BSK FINISHER akan menerima eksklusif ini :
BSK Medal
BSK E – certificate
E-Voucher from OnGoin
Running Drill Tips – Coach Aimran
LIVE ZOOM 5KM Indoor Walking sesi Bersama Coach Gaya.
How does it work?
Daftar untuk 21 KM Virtual Run BSK 2.
Selesaikan larian menggunakan aplikasi penjejakan GPS atau indoor treadmill.
Uploadkan tangkapan skrin aplikasi penjejakan anda atau foto papan pemuka treadmill yang menunjukkan hasil anda pada link yang disediakan.
Tunggu penerimaan BSK Medal, E voucher & E sijil setelah kami mengesahkan penyerahan anda! E-certs akan diemelkan bermula pada 01/03/2021 and semua BSK medal akan dikirimkan bermula pada 01/04/2021.
---
I am a passionate educator and advocator in helping Malaysians live better, healthier, stronger, and happier lives. Ingat, ia bukan soal kurus.
Author posts